Catherine Howard
Part II of III

King Henry VIII
Chapter IV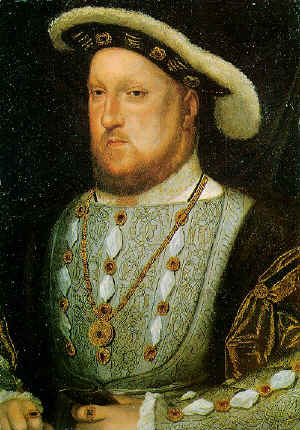 Weak as water, Cranmer had water's power of insinuating itself and its gift of transmitting force. Where Cromwell had offered a solid. front that Gardiner could smash, Cranmer divided and yielded with a surface that could only quiver and tremble obsequiously. But his commotion never really changed him: he always returned unruffled to the political and theological persuasions that his intelligence cupped and retained. Henry felt this consistency in him and had a sneaking admiration for him. The archbishop was always ready to see a whale when his master said, "Methinks it is a whale." The Real Presence, celibacy, three, five, or seven sacraments, carnal concupiscence, pre-contract treason - Cranmer could see any or all of them when Henry affirmed them in the right voice. But whether he agreed or faintly demurred on the immediate proposition, the Primate mutely kept the purpose of a national church before him, and by ways as sinuous as they were elastic and buoyant, he nibbled toward his destined end.
This purpose Catherine did not promote, and as she was an obstacle to the national church, like all Howards, Cranmer could not accept her. Her uncle Norfolk's views on the Word of God were terse. "I never read the scripture," he said with finality, "nor never will read it: it was merry in England afore the new learning came up: yea, I would all things were as hath been in times past." Cranmer, who heard these syllables as a pent-up scheme of irrigation might hear its dam quaking at the base, could afford to say nothing at the moment. For the moment he flowed round Catherine with the sibilance and undulation of his nature. So long as she might supply Henry with an heir, he could not antagonize her. But Cranmer was a stipple adversary whom any young woman of nineteen might well have dreaded. At present, however, he was as meek as the sea in moonlight purring as its little white paws are fribbling at the shore.

Chapter V
The reactionaries were busy undoing Cromwell's work. The new year, 1541, soon saw the arrest of Wallop the ambassador to France, Thomas Wyatt the ambassador to Spain, Sadler the ambassador to Scotland, and various other gentlemen tinged with anti-papistry. These opinions Thomas Wyatt had the audacity to defend, and Catherine had the valiancy to plead for him. Her simple impulse to send warm garments to the old Countess of Salisbury in the Tower was not nearly so impolitic as her advocacy of Wyatt. But in this instance, her fascination for Henry counted in an emergency. She won as against her own promoters. It was helped, of course, by Wyatt's own fascination and by Catholic eruptions in the North. The dehorsed ambassador had gone to the Tower in the utter ignominy that the Bishop of London, Bonner, had wished for him: hands bound like a criminal, for all his "visage stern and mild." But Thomas Wyatt was one of those tameless Englishmen whose tongues are nakedly and dangerously truthful when unsheathed. His defense was outspoken, even in regard to Henry, though it showed a sort of soldierly loyalty. At bay at the moment when Catherine was sweeping to Greenwich by the Thames, meeting a splendid reception from the people and the Tower guns saluting, she had the spirit to try a "great intercession" for Wallop and Wyatt. "At the great suit of the Queen," it was written by the Privy Council to her uncle at Paris, the King yielded where he had angrily resisted Catherine on Buckingham and Jane Seymour on the Pilgrims. It was almost the only case in his whole career where he felt strong enough to be weak - that is to say, merciful.
He pardoned, though on condition that Wyatt confess his "guilt" and take back his wife - the sister of a lady whom Henry much admired. Wyatt, who "quick could never rest," did not stand on formality. He escaped the block, to the surprise of every one, even if the "hammers that beat in that lively brain" and the still quicker hammers that beat in that lively heart were to be stilled by natural death the following year.
The mood of mercy, however, came for Henry in his own reaction against Gardiner's failure with the Emperor. The world was betraying his mellow mood. In spite of his big expenses for defense, his ramparts at Dover, Portsmouth and Southampton had just crumbled. In spite of his big efforts to become shapely, the banquets had undone the early rising, the fistula had closed alarmingly and "he is very stout and marvelously excessive in drinking and eating, so that people with credit say he is often of a different opinion in the morning than after dinner." In spite of his dream of making a son, Catherine was not yet pregnant. It was an unkind world. He mirrored it by his own sourness. He spent Shrovetide "without recreation, even of music." He stayed in Hampton Court "more a private family than a King's train." He abused his people, saying "he had an unhappy people to govern whom he would shortly make so poor that they would not have the boldness nor the power to oppose him." He abused his Privy Council that, "under pretence of serving him were only temporizing for their own profit, but he knew the good servants from the flatterers, and, if God lent him health, he would take care that their projects should not succeed." He abused, finally, those who had devised Cromwell's death. "On light pretexts," he violently asserted, "by false accusations, they made me put to death the most faithful servant I ever had!"
This was the fitful volcano that Catherine had to live with. But while she soothed him with whatever endearments are appropriate to a King who has a fistula and who is marvelous excessive in drinking and eating, calling him her wolf or her little pig or whatever, her own inmost mind was busy with Thomas Culpeper and the approaching royal progress to the North.

Chapter VI
After long delays through June and the almost treasonable behavior of the weather, it was at last deemed possible for Henry and the Queen to proceed to the North. It was five years since Lincolnshire and Yorkshire had revolted. Norfolk and Suffolk, rusty perennials, took command of the immense and impressive cortege with which Henry was going to receive the penitential welcome of his subjects. The company numbered four thousand to five thousand, and in case the penance should falter, it included war-horses and artillery. Henry had invited his nephew, the King of Scotland, to come to him at York. This was the underlying object of his progress. But, before he left, to remind the papal Cardinals of his power, Reginald Pole's mother (aged seventy) was beheaded, as well as Leonard Gray, five years deputy in Ireland. Young Lord Dacres was also hanged for the murder of a gamekeeper; his property, as the Council said, "will be very profitable to the King."
As the journey went forward, with every sign of public loyalty and devotion, an extraordinary little drama of private disloyalty was being enacted under Henry's unseeing eyes.
Catherine had taken into her service Lady Rochford, the battered widow of George Boleyn. This woman had played a squalid part in her, husband's affairs, but had managed to crawl back into the court circle, and was now at the young Queen's elbow. A year of the royal marriage had elapsed. There was no heir, and no sign of an heir. And if Lady Rochford's connivance had never been employed with Catherine's cousin Anne, it was now certainly proffered in the cause of a liaison for which Catherine was only too ready. She was in love with Culpeper. Lady Rochford, either out of the wish to gratify her mistress, or else out of a natural aptitude for acting as a procuress, began to make it possible for the two young people to be together, sometimes with Culpeper poised at the head of the back stairs, ready to spring downward; sometimes with Catherine and himself together in her chamber; and once with the two of them for a whole evening hidden in a "vile place" that heard the young woman reveal her loneliness for him, her exigency for him, her eagerness to compromise herself, and the accursed spite of Queens.
The young dandy was not instantly persuaded, but he was in love with Catherine: these were extremely tense and brittle interviews.
"Jesus! Is not the Queen a-bed yet?" asked Catherine Tilney, a gentlewoman who had been with her mistress in the Derham days. This was at Lincoln, at two in the morning.
Marget Morton, who had been waiting up, answered, "Yes, even now." The rendezvous had only terminated at two.
Catherine seemed to think that a love affair was "secret" if it were not deliberately announced at Paul's Cross. At Greenwich, at Lincoln, at Pomfret, at York, her "secret" interviews were contrived, with half a dozen of her women discussing them, and "in every house seeking for the, back doors and back stairs herself." She was still the young girl fooling the old Duchess, but she seriously admonished Culpeper when he went to confession not to "shrive him of any such things as should pass betwixt her and him: for, if he did, surely, the King being supreme Head of the Church, should have knowledge of it."
"No, Madam, I warrant you," laughed the young cavalier.
Lady Rochford, who, with the Queen, let him in the back door, had learned nothing from her experience before, and "provoked him much to love the Queen."
Master Culpeper was no cyclone. But Catherine knew her mind and she did not fear to scribble him a note, one of those tremendous Alpine struggles with the pen that are possible only to illiterate people who are climbing to their star.
"Master Culpeper," she wrote to him in August, "I heartily recommend me unto you, praying you to send me word how that you do.

"I did hear that ye were sick and I never longed for anything so much as to see you.

"It maketh my heart to die when I do think that I cannot always be in your company.

"Come to me when Lady Rochford be here for then I shall be best at leisure to be at your commandment.

"I do thank you that you have promised to be good to that poor fellow, my man, for when he is gone there be none I dare trust to send to you. I pray you to gyve me a horse for my man, for I have muche ado to get one, and therefore I pray send me one by him: and in so doing I am as I said afore; and thus I take my leave of you, trusting to see you shortly again.

"And I would you were with me now that you moutte se what pane [might see what pain] I take in writing to you.

"Yours as long as life endures.

"Catherine.

"One thing I had forgotten, and that is to speak to my man. Entreat my man to tarry here with me still, for he says whatsoever you behyw [order] he will do it."
It was a great effort: she might truly ask him to see what pain it cost her.
And while Culpeper folded away these simples lines, the King was busy with sport, helping to kill two hundred stags and does, "as near as if they had been domestic cattle," or seeing his arbalists taking in two boatloads of dead swans. He and the Queen were busy receiving public homage, the Archbishop of York kneeling in penance for the insurrection of 1536 and Robert Constable, still in chains over the gate at Hull, where Norfolk had hoisted him, grinning a sardonic welcome to Henry and Catherine.

Chapter VII
They were to be home by the end of October. But before they arrived Cranmer had been listening to a man called John Lassells. This was an underling at the Court, a stanch Protestant, who had never accepted the downfall of Cromwell, "so noble a man which did love and favor" God's holy word. Lassells was an early example of the stern and sincere Puritan. A year before, September, 1540, he had recited Norfolk's words about the Scriptures. "Let them alone and suffer a little time," he had darkly foreboded, "they will overthrow themselves!" But in the meantime, he had come upon a revelation that he imparted to Cranmer. He had been conversing with his sister Mary, who was a nurse with the old Duchess during the Derham period.
"Why not sue for service with the Queen?" quoth John Lassells.
"I will not," Mary answered, "but I am very sorry for the Queen."
"Why?" quoth John.
"Mary," quoth she, "for she is light, both in living and conditions [behavior]."
"How so?
Mary then revealed to her stalwart brother that one Francis Derham had lain in bed with Catherine between the sheets an hundred nights, and moreover one Manox knew a private mark on her body.
John Lassells, Cranmer said, came of himself to him, and he "being much perplexed," consulted Audley and Jane Seymour's brother, Hertford. The three men, anti-Gardiner and pro-Cromwell, were of one mind. That Manox knew a privy mark on the Queen's body, and that Francis Derham had slept with her, was clearly something of which Catherine's husband ought to be informed. And Cranmer, being an Archbishop, was the man to do it.

Chapter VIII
The royal couple did not know what sort of reception Cranmer had waiting for them. They arrived South at the end of October, happy to be home. But on reaching Hampton Court the childlike eagerness of homecoming was soon brought to earth. Henry's sister Margaret was dead intestate: trouble. His boy Edward, fat and unhealthy, had a fever: anxiety. And then Cranmer drew near him "sorrowfully" during mass on All Souls' Day and handed him a paper.
The day before the King had been felicitating himself on Catherine. After receiving his Maker, he had directed his ghostly father to make prayer and give thanks with him for "the good life he led" and hoped to lead with her. She was indeed the rose without a thorn.
Then he perused the story that soft Cranmer "had not the heart to tell him by mouth."
He read it, scanned it, turned it over. His first feeling was that of a man who had accepted some one unquestioningly. He had never in his life been less suspicious or more genial, and he felt it must be a forgery. Incredulous, he sent for the Archbishop. Cranmer stood firm. Henry began to be a little troubled. Three or four days he spent with the councilors he could trust, directing them to find Derham and Manox, Lassells and his sister, and make prudent inquiries. He wanted neither a break nor a scandal. The Queen, meanwhile, was told to stay in her chamber: and her musicians were sent off, saying, "that it is no more the time to dance."
On November fifth, about midnight, Henry sat in with the taciturn Southampton, the clear and frosty Russell, obedient Anthony Browne, and the resourceful Wriothesley. On Sunday morning Norfolk came out: he had been questioned at Exeter Place so as not to bring Henry the plague. He and Audley met the King at Hampton Court and dined "at a little place in the fields." That night Henry went secretly to London. The Council assembled at midnight and did not disperse till four or five A.M. All of them, even the grim Norfolk, now betrayed the heavy trouble that was brewing. The confessions were soon arriving. Lassells' sister Mary was crushed like quartz by Southampton: Manox, mentioned by Mary, was taken to Lambeth and peeled by Cranmer and Wriothesley. Derham was arrested, ostensibly for piracy, and taken to the Tower. Wriothesley handled him. Marget Morton fell to Anthony Browne. And Cranmer, Norfolk, Audley, Sussex, and Bishop Gardiner were deputed to undertake Queen Catherine.
Everything, so far, related to what would later be called her "abominable, base, carnal, voluptuous and vicious life" before she met Henry and before she "led him by word and gesture to love him" and "arrogantly coupled herself with him in marriage." Henry's own pure life, and his own part in the coupling, which every one believed to have antedated the marriage, were not in question. It was not he who had tainted her blood but she who had "tainted the royal blood." It was not he who, by his scruples and his caprices and his political maneuvers, had sapped the foundations of marriage: it was she who was criminal. Light himself, but stern for others, Henry watched and waited.
Cranmer had been preceded by Norfolk in catechizing the Queen, and as the uncle had got nothing the Primate had purposed to begin by dilating on her demerits, then declaring the justice of the laws, and, lastly, signifying the King's mercy, to extract her confession. But this was unnecessary. Some word, some gesture, suddenly brought home to the young woman, not yet twenty, the catastrophe into which she had plunged herself. "Her state it would have pitied any man's heart to see," reported Cranmer. She was so in anguish that "for fear she would enter into a frenzy," Cranmer began straight off with the promise of mercy: and "this sudden mercy," meeting the conscience that was already coming out to surrender, completely broke her down. She launched on her confession, her life before marriage. The scene prolonged itself into twilight and after. The Angelus came to their ears from the chapel to her chamber at Hampton, with the graven face of the Archbishop emerging from the laden shade by candlelight. The girl fell into another "pange." "Oh," she cried, "about this time Master Hennage was wont to bring me knowledge of his Grace."
Cranmer had no clew to Culpeper. He did not touch on her married life. His one thought was to see if divorce could be grounded on a contract with Derham. There was no contract, Catherine said, but she admitted carnal knowledge. Cranmer heard the sobbing admission. He wrote it all down and she put her hand to it. Then the grave and reverend Primate departed.
Her own sister was married to Edward Baynton, in attendance on her. When she divulged to the Bayntons what had just happened, they saw better than she the ruin before her. A message promptly followed to Cranmer saying that what Derham had done was by force.

Last Revised: 02 Jan 2015