Wakehurst Place:
The Culpeper Connection
(Continued)
Nicholas was still a boy, and living in Isfield, when Sir Edward Culpeper died and was buried on 9 April 1630 at Ardingly church 'close to the south window by the chancel'. Edward's first son had died young; his second, Sir John, who had been knighted at twenty-three, died a couple of days before his twenty-sixth birthday and was buried in the same chancel where his father was later laid to rest. William, the third son, was twenty-seven when he inherited Wakehurst and had just had his third child baptized. He was married to his cousin, Jane, and from the time of their marriage in 1626, their eleven children arrived almost yearly. On the face of it, and certainly by comparison with his distant cousin the herbalist, William's life was comfortable and privileged. He was educated at Eton, afterwards Cambridge, and then went on to Balliol College, Oxford. He was created a baronet in his mid-twenties and was on extremely good terms with his father-in-law, Sir Benjamin Pellatt, who was also his uncle, having married his mother's sister. At the time of Edward's death, William was living in the manor of BoIney, near Burgess Hill, which Sir Benjamin had settled on him even before the marriage to his daughter and, when the couple moved to Wakehurst, Sir Benjamin had a farmhouse, which he called Bolney, built nearby.
On 18 Jul 2004, James Allen wrote: "I live in a house (now) called Bolney Farmhouse, about half a mile south of Wakehurst Place. The house was built in two phases - the main part of the house being built between 1545 and 1550 (as shown be recent dendrochronology dating) and the "North Wing" extension being dated between 1622 and 1654. I wonder if this was the the farmhouse, that Sir Benjamin Pellat had built in 1630, to which you refer in your text? (Culpepper Connections believes this could be the same house as it is possible that Sir Benjamin simply built the addition to ready the house for occupancy.) If you know of anyone visiting Ardingly who might like to visit our house, do let me know - it would be a pleasure to show them round, and we are only a stone's throw from Wakehurst Place. (James can be contacted via e-mail)

Bolney Farmhouse, 2004
Photograph provided by owner, James Allen

In the tradition of his father and grandfather, William was elected sheriff of the county in 1635, and when civil war broke out he sensibly kept a low political profile, although he tended towards the Royalists. Possibly on account of this, he never served in public office thereafter but, by and large, he was the epitome of wealthy respectability and he and his father, between them, spent more than a century conscientiously rebuilding Wakehurst into a powerful and impressive family headquarters.
Of William's eleven children, only four were boys, and only one of these survived him. This was his youngest, John, who lived well into middle-age, but had no children. William's other sons were Thomas, who died as a baby, Edward, who died in 1672 aged about forty, and Benjamin, the eldest and heir to Wakehurst, who died in 1670. The death of a child in a large family was not unusual then, nor the tragedy it would be today, but for William to have lost his sons as adults must have caused him much grief and perturbation with regard to the future of the family home.
The final Culpeper of Wakehurst:
"William the Wastrel"
Benjamin had been married twice, firstly to Margaret Hodson who bore him two daughters, one of whom died in childhood, and secondly to Judith, daughter of Sir William Wilson of Eastbourne. She had three children, two boys, the youngest of which died as a baby, and a girl, who died at the age of eleven. The eldest, William15wk, became second Baronet and last of the Culpepers to inherit Wakehurst, when his grandfather died in 1678.
About three years after Benjamin died, Judith re-married a Captain Christopher Mason (of the Royal Navy) who had served under the Duke of York and had been commended for his bravery as Captain of the man-of-war, the 'London'. By all accounts he was a first-class officer and well respected by both his men and his superiors but, for some reason, Judith was reluctant to inform her father of the marriage until after the event. When Sir William did get to hear about it, he was furious and said he would have nothing more to do with Judith. He may have had fears that, by this second marriage, his daughter was jeopardizing her son's chances of inheriting Wakehurst, but they were unfounded and he was soon consoled when a letter arrived from the Duke of York to say that Judith had made an excellent choice in marrying his former lieutenant. So, they were reconciled, and to the extent that Sir William took the seven-year-old William, his older sister and their newly born half-sister into his care for three years while Judith and Captain Mason were away.
Although Captain Mason appears to have been a kind and responsible stepfather, William's early life was tailor-made for a disastrous adulthood. The three-year separation from his mother, the death of his eleven-year-old sister (probably his closest companion) and then the move from his grandfather's familiar home to Captain Mason's house at Greenwich were all disruptive events in his childhood. Soon after leaving his grandfather, and aged only ten, he succeeded to, Wakehurst and would certainly have been made aware - particularly by Sir William - of the importance of his future role as heir to this property and the Culpeper fortunes. But William's ties to the family home, unlike those of his father and predecessors who had grown up there, were not strong and to a boy of ten, whatever his era, the inheritance must have seemed only a prize to enjoy and do with as he pleased when the time came to claim it a view which, unfortunately, William never matured beyond.
William's attitudes were already in question by the time he was fifteen and Captain Mason was obliged to write to Sir William for advice - and probably support - in the face of opposition from his precocious stepson and the boy's too soft mother over the issue of William's schooling. Captain Mason wrote: "You know that this is the month he is fifteen-years-old and the Culpepers grow stubbornly ripe betimes. I am fearful by taking a tutor into the house that his mother's blind fondness will prejudice his learning." Captain Mason then goes on to say that certain people in Sussex, whom he names, had insinuated ill principles into the boy and told him that he was a fool to be governed by his mother or anyone else. The letter concludes: "Pray let me desire you to send your opinion - whether we had best send Will to Eton or to take a tutor into the house." Sir William did support Captain Mason's views and William was sent to Eton - and very likely resented going, particularly as his mother died while he was still there.
In spite of his grandfather's entreaties to 'serve God with a perfect heart and keep good company', William apparently did quite the opposite, although his exact movements between the time of his leaving Eton and his twenty-first birthday are not certain. Sir William had wanted him to go to France, to learn the language and "other exercises as gentlemen are instructed in" and, as an educative spell on the continent was quite customary for a young man in his situation he may well have complied. Exactly how much time he spent at Wakehurst, in the eleven years between his succeeding to it and his coming of age, is also an unknown quantity. What we do know is, it took him just five years to sell off everything that his family had built up in two hundred, in an attempt to pay off his gambling debts.
On 6 June 1694, Wakehurst was sold to Dennis Lyddell for £9000 - not just the house but also the whole estate, with all its buildings, barns, stables and all the outlying farms in the area, which belonged to it. Within two years of this, William also sold off the manor of Burstow in Surrey and the manor of Wickham in Steyning, two other large estates which were his by inheritance.
No good has ever been written of William and all comments tell much the same story: "Without regret he handed over Wakehurst, the beautiful home of his ancestors, to a stranger, and betook himself to his boon companions in London to squander the proceeds of its sale in gaming houses and in other disreputable modes of life." His notoriety even reached the ears of his contemporary, Alexander Pope, who used William as an example in his epistle, On The Use of Riches:
Had Colepeper's whole wealth been hops and hogs
Could he himself have sent it to the dogs?
And then, in case William's reputation was not known to all, Pope added the explanatory note: "A person of an ancient family and ample fortune without one other quality of a gentleman who after ruining himself at the gaming table passed the rest of his days in sitting there to see the ruin of others, preferring to subsist upon borrowing and begging rather than to enter any reputable method of life and refusing a post in the Army which was offered to him."
Just how bad William was is very much a question of values. To those who believe that accumulation of wealth for posterity's sake is a high aspiration, and for someone in his position, a duty, he was very wicked indeed. Others may think him, simply, 'a fool unto himself'. The way in which he dissipated his fortune was certainly extremely foolish but he himself may have felt that it was Up to him to decide whether or not to play the squire in a home to which he had no particular attachment and whether or not to marry so that it could be passed on to his heirs. He didn't marry, if by choice or chance we don't know, and died in London in 1740, where he was buried at St James in Westminster. In retrospect, William's decision may have actually been for the good of Wakehurst, given that subsequent owners cared for it just as much as any in his own family.
Lyddells, Clarkes and Peytons
Dennis Lyddell (1657-1717) rose from being a clerk in Chatham Dockyard to Commissioner of the Navy, with full control over its accounts, and knew a good investment when he saw it. In 1694, when he bought Wakehurst from William, the estate comprised about eleven hundred acres, to which Dennis added at least another two thousand, as well as buying back the Naylands estate in Balcombe and other land there. He and his wife, Martha, had five children: two girls, Elizabeth and Frances who died in infancy, and three sons, Richard, Charles and William. Dennis died in 1717 and two years later, on Martha's death, all his property went to his eldest son, Richard.
Richard Lyddell seems to have shared some of William Culpeper's traits. Within a short while he had mortgaged Wakehurst, taking £5000 from his sister, Elizabeth, and another £4000 from his brother, Charles. Presumably he never managed to repay this, for in 1731 Charles was registered on the Court Rolls as Wakehurst's owner. Charles had been ordained Rector of Ardingly in 1724, while Richard was still patron, and from this living received £100 yearly. When he took control of Wakehurst, it brought him an additional income of £1000 a year that he is said to have distributed freely among needy friends and charitable causes. He died, suddenly, in January 1757, having never married and, as his brother and sister were already dead, Wakehurst went to his cousin, Richard Clarke of Blake Hall in Essex. When Richard died, three years later, it went to the other cousin, Dennis Clarke of Grays Inn, Middlesex.
Wakehurst belonged to Dennis Clarke for thirteen years, but he too was childless and it passed to Admiral Edward Peyton, great-grandson of Dennis Lyddell's half-sister - not a close relative but still a member of the family. After his death in 1804, Wakehurst was inherited by his son, Rear Admiral Joseph Peyton, who again, like Richard Lyddell, obviously felt little commitment to the place. He seldom, if ever, lived there, preferring to remain at his home in Brighton and, even before his father's death, had assigned his inheritance as security for debts amounting to £5000. His father cleared these for him and Joseph managed to hold on to Wakehurst until his death in 1816. Wakehurst then went, firstly, to his son, Joseph Lyddell Peyton, who died five years after inheriting it and, secondly, to his other son, Captain John Ritson Peyton, to whom it belonged for just four years.
Joseph John Wakehurst Peyton, Captain Peyton's son, was only six when he inherited Wakehurst and so the estates remained in chancery until he came of age in 1840. Shortly before he did, a trust, which had been set up by his great-grandfather and then totaled about £30,000, was used by its trustees to buy another eight hundred and eighty-six acres of land and estate around Ardingly. When Joseph and his wife, Marianne, moved into the area, rather than taking up residence at Wakehurst, they chose to live at one of the newly acquired properties and it was there that their son, John East Hunter Peyton, was born a year later in 1841.
Joseph died only three years after his son's birth and so John, just as his father had been, was obliged to wait many years before coming into his inheritance. During that time the wings of Wakehurst were shortened and the stones used to rebuild Newhouse Farm, a couple of miles from Wakehurst, and in repairs to other farmhouses on the estate itself. However, when Wakehurst finally became John's responsibility in 1862, instead of continuing to improve and restore his property, within a year he had begun to sell off parts of it until finally, seven years later, in 1869, he sold Wakehurst Place itself.
As we can see, in the years since Wakehurst had left the Culpeper family, only three of its owners, namely, Dennis Lyddell, his son Charles and Admiral Peyton had any real of responsibility for the upkeep of the house. Most of the time it had been lived in by tenants and when John Peyton sold it to Caroline, Dowager Marchioness of Downshire, it was in an extremely dilapidated state.
Lady Downshire Renovates
Lady Downshire bought Wakehurst the year after her husband's death and went to live there with her second son, later Lord Arthur Hill, who was then in his early twenties. Between them they made Wakehurst into a home again and the book, The Mansions of England in Olden Times, published in 1870, gives us some idea of the sort of task it must have been. The book describes the staircase as needing to be "cleansed from a vile coat of paint with which it is at present daubed" and makes many other critical comments but concludes, "It is to be hoped that the noble proprietress of this pretty little mansion will restore it to somewhat of its pristine beauty."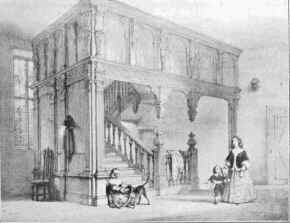 The Staircase at Wakehurst
One of the changes Lady Downshire made was to move the door on the south-west comer of the house, which was known as the Ladies' Entrance and led in from the flower garden, to the east side near the chapel which she added to the house in memory of her son's first wife, Annie. She also moved the very fine stone mantel-piece, complete with all the Culpeper arms, from the drawing room (originally the hall) to the library and made many other such alterations in the twenty years that she and her son lived in the mansion.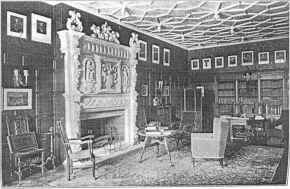 Wakehurst Library
During that time, Lady Downshire was approached by an American, Mr. J. Van Alen, who wanted her permission to use the plans of Wakehurst so that he could build a replica. Lady Downshire was quite agreeable to this and probably amused by the request, so in 1884 a 'new Wakehurst' was erected in Newport, Rhode Island. Van Alen wanted to copy the original as faithfully as possible and accomplished this except, for one important detail. A few years later, when his family came over to England to see how well their home compared with its prototype, they realized that the Newport version was a totally different color - apart from that they were happy with what they saw. The reason, of course, for the discrepancy was that the old Wakehurst was built from soft-colored local sandstone and the 'new Wakehurst' from hard, gray Indiana stone which, apart from being so different a shade, was never likely to achieve the same 'weathered' look.